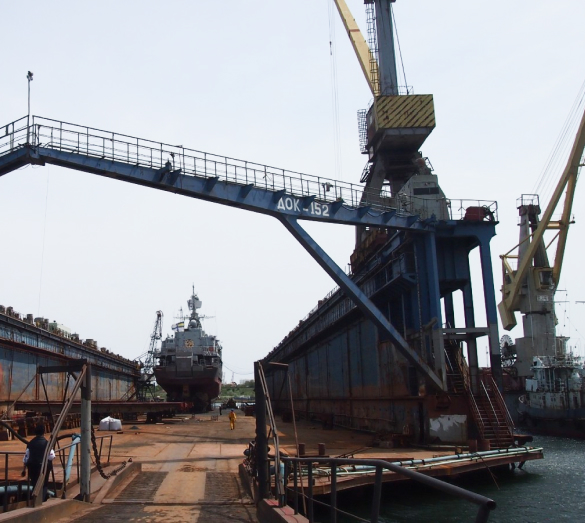 The company has the ability to repair all types of ships, including Panamax size ships, including technically complex types of ships, such as car transporters, ferries, Panamax product tankers, container ships and multipurpose ships.
Basic activities of Ilyichevsk Shiprepair Yard:
Basic activities of Ilyichevsk Shiprepair Yard:

Repair and renewal of steel constructions;
Conversion work;
Repair of hatch covers/renewal;
Ultrasonic thickness measurements;

Hull treatment

High pressure hydro jetting, scraping and wire-brushing;
Gritblasting up to SA 2,5 and painting of shell plating, decks and holds;
Ballast and cargo tanks blasting/painting;

Docking works

Sterntube seals renewals, tailshaft withdrawal for survey;
Repair of propulsion units with CPP;
Overhauling/repair of sea valves of all ship's systems;
Repair of steering gears;
Repair of propellers;
Recondition of Chrome liners for simplex seals;

Machinery and piping

Repair of main and auxiliary diesels and turbine plants;
Repair of all types of pumps and compressors;
Repair of turbocharges; Repair of refrigerating plants;
Repair of main and auxiliary boilers;
Recondition of vessel's spare parts for ME and DG;
Renewal and repair of pipelines.

Navigation and electrical equipment

Repair of electrical equipment and motors;
Repair of radio equipment;
Repair of electronic equipment;
Onboard repairs;
Various repairs on vessels during loading operations in;
Renewal and repair of cable lines.

The additional works

The design and execution of works on the ILO conventions.
Renovation of sanitary vacuum systems vessel.
Work on the interior.
Repair and replacement of wooden covered deck.
Repair of deck settings using composite materials.
Definition, dismantling / disposal of asbestos-containing materials.